The first monocoque-built student racing car in Taiwan to dash through FSAE in Japan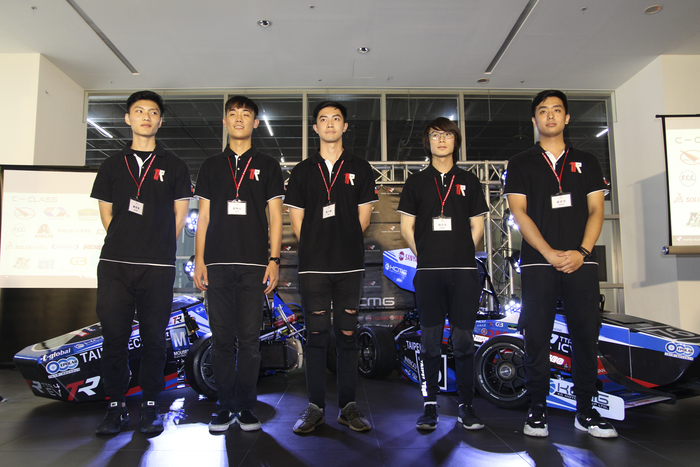 The Formula SAE (FSAE) is the international competition on car racing and design for students. The Taipei Tech Racing (hereafter the TTR), which is the student formula car racing team Taipei Tech Vehicle Engineering, will be participating the FSAE with their newly released self-made cars – the TTR4 and the TTR-EV1.
The TTR4 is the first formula student racing car that incorporates monocoque, which reduces the car weight by 15% but instead has a better tensile stiffness against all forces inflicted when running. As opposed to using the carbon fiber cover made from steel frames, carbon fiber dry fabric and resin, the TTR4 was built adopting the cover autoclaved with high temperature and pressure on the layers of carbon fiber prepregs. The layers of carbon fibers can thus merge better to increase the strength with less material.
The TTR-EV1 is also the first electric-powered racing car they have ever made. Both the two cars are using their first carbon-fibered double-wishbone suspension, which is able to make huge progress on the positioning accuracy of the system.
Backed financially and technically by Hotai Motor, Yulong Group, Mouser Taiwan, Cobot Group Limited, Sanyang Motor, YAMAHA, Audi and other sponsors, the Taipei Tech Racing was able to carry out their firsts.
The TTR, led by Prof. Chih-Keng Chen and Prof. Kuang-Yow Lian, is composed of forty more students in different majors related to vehicles, engineering, electronics, electrics, chemistry, molecular science, and industrial design. The students are grouped into different parts of fabricating a racing car – including chassis, engine, body, and administration and do it from scratch. Not just the hardware that the students have to work on, but they also have to be economical in cost and smart in promotion same as the production line in an enterprise for the racing cars.
"The FSAE challenges students to design, fabricate, promote and compete with the formula-style racing cars," said President Wang. "Attending competitions not just turns the knowledge acquired in class into practice but meanwhile develops communicative and problem-solving skills and inspires the creativity within as an extension of learning in schools."