Collaboration with CECI to develop offshore wind power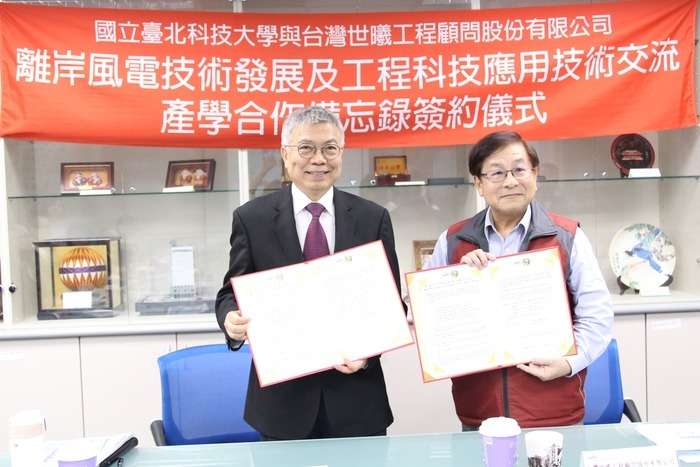 Offshore wind power is considered important energy in Taiwan. Statistics show that power plants are generating 5% of the total amount of power domestically. The industry is also predicted to boost the output value by 1.2 trillion, making it a profitable and sustainable industry.
In November 2019, Taipei Tech has signed a collaboration MOU on offshore wind power with CECI, the engineering consultant in the leadership position in the industries. Represented by President Sea-Fue Wang, and Chairman of the Board, Dr. Lie-Liung Chou, Taipei Tech and CECI shook hands on the agreement and had a pleasant talk on plans.
CECI was established in 1969 as the largest engineering consultant with expertise in civil engineering, structure, mechanical engineering, electrical engineering, and control systems. CECI has also held the key techniques for the offshore wind power since their investment started in 2015.
Chairman Chou recognizes Taipei Tech as the top university with abundant research production driven by application. The MOU enables collaboration and skills exchange of experts from different fields. "Our collaboration with Taipei Tech will for sure spur the development of the offshore wind power and other technological domains," said Chou.
President Wang indicates the importance of cultivating applicable knowledge in the realm of offshore wind power. Taipei Tech also saw the increasing needs of experts in the field and therefore has provided an interdisciplinary course for the students from colleges of engineering, mechanical engineering, electrical engineering, and computer science.
"CECI and Taipei Tech is going to create a win-win situation where the state-of-the-art technology of the industry and the in-depth research of the academia are mutually assistive," he said.
Taipei Tech and CECI agree on the joint development on the technology of offshore wind power, including innovative structural analysis, monitoring of offshore construction, HVDC connections of power plants, maintenance and examination of power transmission and substation, NDT on wind turbine rotor blades, drone investigation. Both are also in talks to forge another formal and deeper agreement in the following 6 months.